The Icelandic Coast Guard (Landhelgisgæsla Íslands, Landhelgisgæslan, or Gæslan for short, in Icelandic) of today is an organization that serves not only the typical purposes of a coast guard (namely, border control / coastal defense, policing on national waters, and Search and Rescue (SAR) operations) but has also taken over tasks of Icelands air defense.
Real-World / Pre-Rash Version
Edit
The most noteworthy events in its history are its involvement in the three "Cod Wars" that each followed an Icelandic announcement of enlarging their Exclusive Economic Zone (EEZ), meaning that vessels of other nations were barred from fishing in those waters.
As of 2014, the Icelandic Coast Guard operates four ships: ICGVs (Icelandic Coast Guard Vessels) Þór, Týr, Ægir, and Baldur. All four follow earlier ships of the same name, and the first three carry mounted weaponry, the largest caliber being one 40 mm Bofors gun each. ICGV Baldur is a "hydrographic survey and patrol boat" less than half as long as even the "Ægir class" offshore patrol vessels Týr and Ægir (which have a length of around 70 meters).
Role in the Post-Rash World
Edit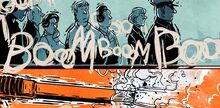 Three months into the pandemic, the comic shows a V/S Þór locating and sinking a boat with - apparently healthy - refugees, supposedly approaching the Icelandic coasts. It is implied that this is the stance Iceland takes on all attempts of foreigners to enter Iceland.
V/S Þór cooperates with ships named M/S Baldur, V/S Ægir, and V/S Týr in this mission, thus completing the match to the pre-Rash fleet, and sends what seems to be a coded sequence of searchlight flashes to unidentified vessels to ask them to identify as Icelandic. Thus, it is likely that Icelands fishery fleet is still active and helping in keeping the nation fed during pandemonium.
According to a comment by the author

, the year 90 equivalent of the coast guard is an unknown number of "sea beast hunters"; like with the Norwegian troll hunters, it remains unknown whether they hunt grosslings for food, to extinction, or both.