Dalsnes is a settlement in post-Rash Norway that also appeared in the prologue. Back then, it was said to be connected to the rest of the world by only a single road that had currently been washed away

by heavy rains; the inhabitants relied on the services of Gunnar (no last name given) and his boat to obtain supplies.
The map on the page introducing Dalsnes

shows it being on the North shore of a body of water. The World Map

, as published online, marks it on the South side of the Sognefjord, approximately at the location of Bjordal, and lists it as having 1,250 inhabitants - though the map is known to occasionally misplace settlement marks.
(Note that in the first edition of the printed book, the World Map has been redacted, and Dalsnes summarily removed. Its place in the list of largest Norwegian settlements has been given to Hitra, and the location on the map is now labeled "Vadheim", a real location on the North shore of the Sognefjord. The second edition of the book again uses the online world map.)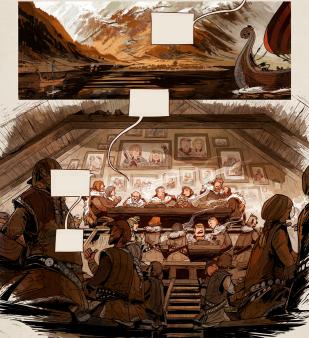 Anyway, the SSSS Dalsnes is nowhere near the real world Norwegian Dalsnes (which is 40 km East of Trondheim, much farther North). According to
comments posted by the author

, the SSSS Dalsnes is entirely fictional.
Post-Rash Dalsnes - so far the only part of post-Rash Norway having been shown - shows a culture that has picked back up a lot of viking customs, from dragon ships to clothing style to social events in wooden longhouses. Trond appears there to ask Sigruns parents for a troll hunter to complement the expedition crew, and Sigrun effectively insists on filling that position herself.
Considering that Trond is
is said to

have retired "from the Norwegian army
in Dalsnes
", with Sigrun sitting near him at his retirement party, chances are that Dalsnes is actually his home, too.