Here are the secondary characters of Stand Still Stay Silent (in alphabetical order).
Admiral Olsen
Edit
A Dane in charge of the Öresundsbro base, enthusiastic for his facility to be used for something other than merchant and travel ships. He talks very loudly and goes on at great length about restoring the Danish forces to their former strength. Seems to be acquainted with Trond Andersen. He also has a previous connection to Mikkel Madsen, a former employee who Olsen fired for spreading medical untruths.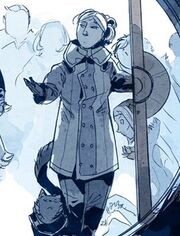 One of the Dalahästen crew members. Agneta was apparently in charge of intercom communications. She tried to keep passengers (namely Emil and Lalli) away from the compartment where she and other crew members later fought against the giant that breached the Dalahästen.
Anne is the ghost/spirit of a former Danish lutheran priest, initially only remembering the "A" of her name before recalling it to be Anne during the freeing of the trapped souls. So far, she has appeared in the dreamscape, in a facsimile she maintains of the church she served in when she was alive, then as a giant/troll in the real church, and finally as an apparition guiding other souls to the afterlife. A glimpse of her suppressed memories shows that in Y0, said church was turned into another makeshift hospital. This is further evidenced by the multitude of skeletons later found in the pews. She was likely killed by the Rash during Y0, but lingers on as she feels that she still has a purpose to fulfill and other souls to guide to the afterlife.
Ása Harðardóttir
Edit
(accentless: Asa Hardardottir)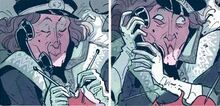 The captain of the Icelandic ship Túnfiskurinn ("The Tuna Fish") unfortunate enough to be eligible to make a resupply run when the main cast finds that they have set out without any rations. After learning of the predicament, and finding that admiral Olsen will not help solve the problem in time, Trond Andersen pinpoints Ása as the proper candidate - and blackmails her into doing the job with material that remains unknown.
Ensi Hotakainen
Edit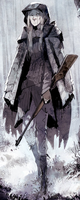 The famous "grandma" repeatedly discussed between her grandchildren Tuuri, Lalli, and Onni, bearer of the heirloom hunter rifle that is now carried by Lalli. She is the daughter of prologue characters Aino and Saku Hotakainen and mother to Lalli's father Jukka and Tuuri's and Onni's father Juha.
Word of God stated that Ensi and her mate met only once, both being "fellow early mage-scout[s] from some distant settlement". Jukka and Juha are identical twins, their father only being known by what is likely(!) his given name, Ukko-Pekka. (In Finland, "Ukko-Pekka", literally "old man Pekka", is also the nickname of
former president Pehr Evind Svinhufvud
, the M-39
military rifle
, a
model of steam locomotive
, and a well-known
steamboat
, not to mention referring to the
deity Ukko
.)
Nordic Council Lady
Edit
A woman working for the Nordic Council in Reykjavik. She met the expedition founders to inform them that their application for an expedition into the Silent World had been approved, but only for a budget that was far reduced than what they had hoped for. She seems approving of their brave venture at first, but later admits that she believes it to be a waste of money. Though she thinks their mission is doomed to failure, she still expects them to provide proper documentation for the use of the funds.
Onni Hotakainen
Edit
Tuuri's older brother. He is a mage, but is frightened of going outside the safe areas.
Siv and Torbjörn Västerström
Edit
Emil's aunt and uncle.
Taru Hollola
Edit
She used to work in the military as a strategist. She recruited Tuuri and Lalli for the expedition despite Onni's disapproval.
Trond Andersen
Edit
A retired military general.