Welcome to the Stand Still, Stay Silent Wiki!
[
]
Ancient pre-Rash archives of the Stand Still, Stay Silent webcomic.
This wiki may contain unmarked SPOILERS. Read at your own risk.
About SSSS
[
]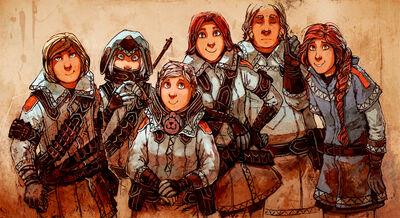 Stand Still, Stay Silent

(often shortened to "SSSS") is a post-apocalyptic webcomic by Minna Sundberg, about the journey of a terribly unqualified crew to explore the Silent World. It began on November 1, 2013, is currently updated four times a week, and going to have printed books soon. The title appears in the comic itself, as part of The First Rule.
The title was chosen and announced in July 2012

, supplanting a first choice that, being too spoilerish, was never publicly announced. First sketches were shown in April

, the first complete lineup of the main characters in July

.
Every page of the comic has an initial author's comment and an open-for-all comments section below, the latter currently using the service of Disqus. Minna reads, and sometimes replies to, the comments, and the discussions often give rise to inofficial vocabulary.
About the Wiki

[

]
This wiki is a fan-run site for general information about Stand Still Stay Silent. It is not an official site associated with the webcomic.
If you would like an overview of all the content of this wiki, please see the "AllPages" special page. For overviews of the comic itself, refer to the Plot Outline, Table of Contents, and/or Table of Special Pages pages of this wiki. (We'ld still recommend that you jump in and read it

instead, though.)
We welcome contributions from all fans. You might want to read the rules and the article writing guide first, though!
Other projects/sites
[
]
Latest activity
[
]