"
He's been very useful! And... Old.
"

–Torbjörn's opinion on Trond
Personality
Edit
Trond is a disgruntled old man who almost never smiles. He is a great believer in the value of idiots as employees. He has, ironically, expressed disdain for old people.
Trond speaks Norwegian and Icelandic. He is immune to the rash-illness.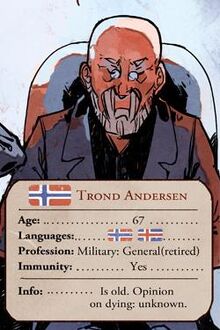 He seems to be friends with Taru, who recruited him as an organizer for this expedition at his retirement party. Trond travelled to Iceland with Taru, Siv and Torbjörn to seek funding from the Nordic Council. He advocated seeking out idiots and desperate people in order to solve the problems related to the acute lack of funds provided for recruitment of expedition members. He does not intend to play an active role in the expedition itself due to his advanced age. Trond has a lot of contacts which might prove useful later on.
His first encounter with the Finnish/Swedish contingent of the expedition is at the Danish military outpost near the Öresund. Trond, along with the remainder of the crew is present to meet Tuuri, Lalli and Emil as well as the other backers of the expedition as they arrive with the Dalahästen railcar.
Relations
Edit
Taru Hollola
Edit
Taru was an old friend of Trond, who probably met him through the military. She was present at his retirement party, and managed to sell him on the mission.
Admiral Olsen
Edit
Trond and Admiral Olsen seem to have a history together, albeit a somewhat turbulent one. Trond seems to take pleasure in riling up the already excitable Admiral.
Sigrun Eide
Edit
Trond is on good terms with Sigrun's parents, and Sigrun herself (who calls him "Uncle Trond"). When he expressed an interest in enlisting one of their soldiers, the Eides were happy to let him take whomever he wished, even a captain.
Mikkel Madsen
Edit
Trond was the one who managed to procure Mikkel for the mission, though the nature of their history together (if any) is unknown.
Ása Harðardóttir
Edit
Very little is known about the relationship between Ása and Trond except they must have had a long history together based on the fact that Trond was able to easily contact and blackmail her

. The "incident" that Trond uses to blackmail Ása is not yet known. Before the blackmail, they seemed to be on good terms, although not good enough to move her to help him without it.
Trond doesn't reveal much about his past, but has plenty of useful connections... and plenty of useful dirt on plenty of people.

Originally, the character was supposed to go by the name "Trond Jørgensen"; the surname got changed - apparently to match Gøran's - so late that artwork with the "wrong" name occasionally resurfaced (example to the right).
While "Trond", as of now, is a predominantly Norwegian male first name, it seems that the family name "Andersen" is even more popular in Denmark.
Family Tree
Edit